Get Closer to Your Patients With Web and Mobile Appointment Booking!
Your patients are your most valuable asset. Progident/Clinic now allows you to get closer to them by setting up an appointment via the Web and their mobile devices.
But the leverage of the new functionality doesn't stop there. It also allows any new patient to register for your services and make an appointment at your clinic.
When a patient books their first appointment online, a patient record is automatically added to your database. Therefore, the new functionality of Progident/Clinic also acts as a platform for the proactive recruitment of new patients.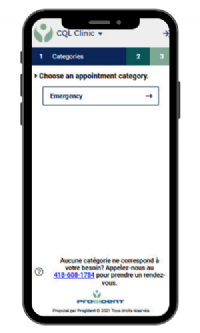 Online appointment booking is not a newcomer to the web world. Indeed, several organizations already offer, via their website, the possibility of sending appointment requests by email. Subsequently, these organizations must immediately reconnect with the patient to schedule and make the actual appointment.
Progident's approach goes further because appointment booking is dynamically integrated into your internal management. In other words, the need to immediately reconnect with your patient can be eliminated. Putting it more simply:
A patient makes an appointment using his mobile phone, and the appointment appears in your current agenda, quite simply! This new appointment is then integrated, like all the others, into your process of periodically confirming appointments by email and SMS.
Obviously, although possible, it is usually undesirable to leave your schedule under your patients' control by letting them make appointments whenever they want.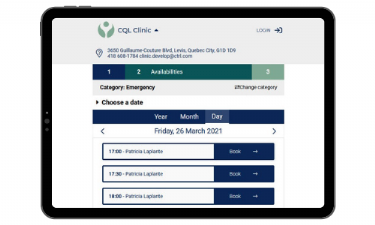 Progident/Clinic, therefore, provides all the configuration mechanisms required to allow you to precisely define what each professional wishes to open as available on the Web:
the periods of availability (dates);
the days of availability;
the possible time slots;
the type of treatment available.
A basic use could, for example, target a historically less busy period to allow appointments to be made for a given service.
A true multi-branch platform, the online appointment booking of Progident also allows patients to choose the branch they wish to go to for their appointment. Do you operate as a banner? This new functionality centralizes appointment booking for your clientele while rigorously redirecting and separating the appointments seen by each of your branches.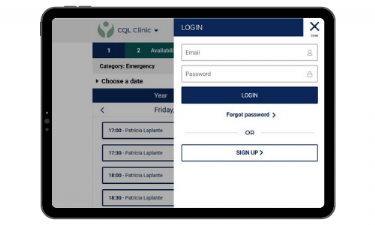 In terms of its deployment, Progident's web appointment booking can fit into your daily management in different ways:
Completely autonomous, by communicating the web address directly to a patient;
Via an option integrated into your clinic's website;
Via the use of the Progident Patient Web portal, which can itself be integrated into your website via a "My file" option;
Via an integration into the message of batch reminders.
Free up value-added time for your patients and get closer to them thanks to this new possibility of Progident/Clinic! For more information or a free demonstration, contact a Progident representative now!